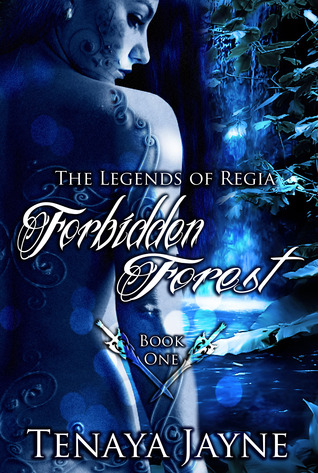 Born in shame. Cast from society. Shape Shifter/Elf hybrid, Forest must fight for any respect she can get. Targeted in her youth by a vampire noble who placed an illegal slave mark on her, she is forced to obey him, no matter what.
Slipping the grip of her master and abandoning the prejudice of Regia, her native world, Forest takes a job on Earth, guarding the portal, using her skills as a warrior to enforce Regia's laws. Now, called home for a black ops mission, Forest must put aside her own prejudice to transport the vampire prince, Syrus, through enemy territory in a time of war.
Prince Syrus, mage and master of the Blood Kata, wants Forest more than he's ever wanted anything. In spite of their mutual mistrust, their attraction cannot be denied. Through the danger of their mission, and the secrets they both keep, it doesn't matter what they feel. Forest is forbidden.
 Blurb and cover from Goodreads
5 out of 5 stars
And we have another winner! Another book that basically made me useless to the world and emotionally traumatized my little readerly heart. Highest marks to the author.
The plot:
One of my absolute favorite things about indie books is that I've noticed that they tend to be more "to the point." There's none of this big, looping, long, boring string of Stuff before you get to the good parts. (No offense to traditional, some of my favorites are traditional.) Anyway, this book was action packed, romance packed, suspense packed, just over all packed.
One thing that did bother me was the omniscient perspective. There were parts where perspective was swapped through the course of a scene and I felt like it should have been more consistent or maybe broken up to make it clear who was talking.
The characters:
Syrus and Forest are simultaneously adorable, hot, and hilarious together. Their banter and Syrus' enthusiasm for human paraphernalia were so cute and I love the idea of the big bad vampire prince scrounging the pantry for Froot Loops, that's not something you hear about every day.
I liked how their relationship was equal—there wasn't one dominating the other. A lot of times—particularly in vampire romance—there's the alpha male stuff. It's fine every now and again, but it was refreshing to have a vampire love interest who's a master in martial arts and also lovingly tells his girl what a bad@$$ she is.
There is a laundry list of characters who need to have an unfortunate meeting with Buffy or perhaps the Winchester boys in a back alley—Leith, Philippe, Christiana, Zephyre, it goes on—so there will be plenty of baddies to get their just desserts come the next books.
I very much want the next book, it's just a matter of how soon I can get it. And the book after that. And the prequel novella. Really, I just want them all.
Find Forbidden Forest on Goodreads
Find Forbidden Forest on Amazon