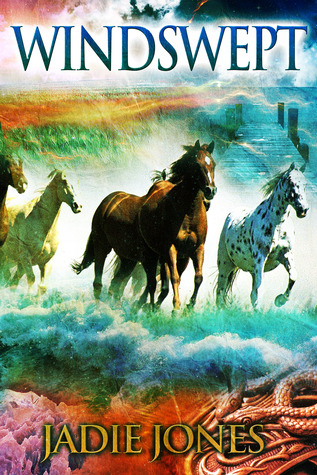 Tanzy's journey continues in Windswept, the second installment of the Moonlit Trilogy…
Tanzy Hightower is the key in an ancient prophecy pivotal to the existence of all beings, both Seen and Unseen. Unseen who have waited a millennium for her birth are relentless in their efforts to see the prophecy fulfilled–whether for good or evil, depending on which side of the conflict one stands. Others have sworn an oath to end Tanzy's existence, permanently.
Already, Tanzy's body has been compromised by her enemies, her veins now home to the blood of a wild horse whose instincts are becoming impossible to control. While Tanzy's Unseen enemies work to draw her out of a remote safe house, her friends beg her to stay in hiding. She is torn, wanting to reunite with Lucas, who has loved Tanzy since her first incarnation, yet unsure whether fulfilling the ancient prophecy will protect those she loves or destroy them.
Blurb and cover from Goodreads
Release Date: July 8, 2014 from WiDo Publishing
5 out of 5 stars
I am FREAKING OUT. How did I not see that coming? Who would have seen that coming? Holy mother of crap, how could this happen? Next book, next book, next book, next book—give me the next book now, now, now—
*deep breath*
As you can see, this book has incited some fangirling. Because of Reasons, I didn't start it until recently plus I took awhile to sit down and read it once I had it. Once I did…well. Please see the opening paragraph for answers. Without a doubt, this book shall be awarded a seat on my Shelf of Awesome beside it's predecessor.
The plot:
To the author, you were nearly the cause of fratricide several times when my brothers interrupted me while reading this. (And I mean that in the best possible way.) I saw somewhere this book is over 100k words, but it didn't feel like that. I tore through it in no time and there was not a dull line anywhere. This book was even more full of betrayals, twists, and shockers than the first one and no matter how hard I tried to figure everything out, I was still surprised.
Like with the first book, I spent a good deal of time missing Lucas when he wasn't around. (Shut up.) He and Tanzy are so beautiful together and I will ship them until the day I die.
The characters:
Tanzy has basically done a whole 360 from the quiet, isolated girl she was at the beginning of Moonlit. Now she's a determined, hardcore warrior queen pitted against the nastiest immortal in existence I'm thinking maybe he should be scared. Her relationship with Lucas has also had a few (many) hitches, but she's still willing to work at it and that warms my little fangirl heart to no end.
We met another character at the end of Moonlit—Jayce. I wasn't sure I'd like her and usually I don't like the friend-type characters, but I love Jayce. Oh, sweet, adorable, artistic, intermittently deadly Jayce. If she dies, I will be furious.
As for Vanessa—I have no idea what the hell is going on with Vanessa. Let's just say she makes politicians look honest and leave it at that.
There are a bunch of other new characters that make an appearance as well—Bridget, Reese, Iris, Abby, Kate—and one or two others. (What's up with Mouse?) But I'm just going to skim over them here and go straight to Lucas.
I've mentioned him three times before this paragraph, so you have probably picked up that I'm in Lucas' fan club. He's another one of "my babies" (a hypothetical collective of fictional characters I wish I could protect from their creators' cruelty). I just…he's an awesome character. The author doesn't make him all perfect and sparkly and gooey and I love that—his persona seems real. I need to come up with a ship name for him and Tanzy…
I recommend this book, I recommend this series, I recommend this author. If anyone asks me if I liked this, be prepared for a deluge of half-finished sentences, jumping up and down, and excited hand flailing.