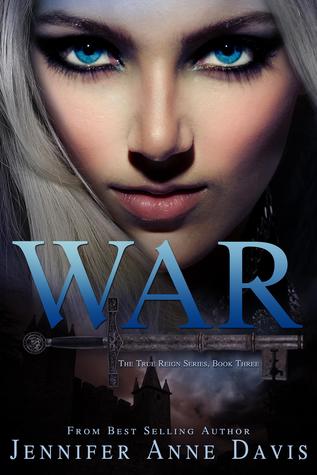 When Rema chose to be crowned queen and join the rebel forces, she knew she'd face the fight of her life. What she didn't expect was to be kidnapped by an Emperion assassin and taken to the mainland to be executed in front of the emperor. How can she save Greenwood Island if she can't even save herself?
Darmik knows he doesn't have much time to rescue Rema. He's denounced his position as Commander and Prince in order to join the rebels. But now he must rely on his family name in order to go before the Emperor—his uncle—and beg for Rema's life.
If Rema and Darmik have any hope of being together and saving their kingdom, they must survive the greatest threat of all—Emperion.
This is the heart-pounding conclusion to The True Reign Series.
Blurb and cover from Goodreads
3 out of 5 stars
"Disappointed" is too strong a word, so we'll just say it wasn't what I hoped. I enjoyed The Key, adored Яed, so I was hoping to be blown away by War, but I felt like the series kind of devolved. I am glad I read it for no other reason than I am happy to know how things turned out for my favorite characters. However, I think this may have missed a round of editing.
The plot:
I definitely think this book should have been about 100 pages longer. Things just felt too rushed, too quick, and it seemed like there were scenes missing. For one, defeating the three main villains felt far too easy. I'm not saying there should have been a grand scale battle that dragged on for chapters, but it was sort of like—smash, BOOM—ta-da! bad guys are dead.
I would have also liked to see a bit (a lot) more of the distrust and struggles in getting Darmik's men, the rebels, and the Emperion soldiers to work together. It was only addressed in a few scenes and briefly and there was so much potential for conflict that was never utilized.
I admit I didn't see the twist about Hamen's illegitimate heir coming and that was handled well, but there were a lot of other twists that I didn't think were properly foreshadowed/handled (i.e. Phallek's dagger).
There were several deaths I know I was supposed to be sad about, but I really wasn't because I never liked those characters in the first place. Yeah, I felt bad when my favorite characters were upset and maybe I should have been more empathetic, but I'm still mad at :SPOILER: Kar and Maya for trying to marry off Rema after Mako gave them express orders not to (really, if I were Mako, I would be irked to no end—what right did they have to do that?) and Savenek for being just a generally snotty little whelp. Sorry. :SPOILER OVER:
The ending felt anticlimatic. I felt like there was still a lot unresolved about Emperion and Greenwood and how that was all going to work out. To me, this whole book felt like the bones of a story without the fat and meat to make it come to life.
The characters:
I still love Darmik and Rema to bits. It' take more than one book to change that. Though I wanted Darmik to be more human/flawed. He has moments where he gets angry over petty things, mainly Savenek's attention to Rema, but I wish there had been more dimension to his faults in this one.
Where I took the largest issue character-wise with Nathanek/Captain. I have decided I like him, but he just seemed way too forthcoming and open for his profession. In the first 20% of the book, he basically tells Rema—an enemy prisoner—his entire backstory or a good chunk of it. And it wasn't even really pertinent to the plot. I like my assassins terse and scary and I think it would have been possible to humanize him without the soul-baring.
Don't let the scathing fool you, I still enjoyed parts of this book. There were a few places were I squeed and grinned and even laughed. It could be that I just hate endings. I might have read this when I was in the wrong mood. Nonetheless, I still recommend the first two books in this series without hesitation. If you like them, well, then you'll have to read this one.